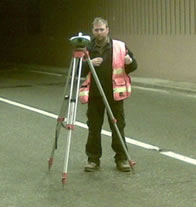 Deformation surveys, or deformation monitoring, has increased dramatically over the last 10 years or so among the civil and building professions. There can be many reasons why this type of work would need to be carried out. Monitoring of building foundations, structural retaining walls, embankments or even in the control of mechanical processes.
The purpose of a deformation survey is to determine whether or not movement is taking place and subsequently whether the structure is stable and safe. Movement can be further analysed to see if it is due to seasonal factors, daily variances etc. and then more importantly use the information to determine future movement of the structure.
Accuracies required for deformation surveys depend on many factors but generally accuracy to the millimetre or better may be required. Whilst the above descriptions cover most needs for a deformation survey we have carried out other types as well. The largest of these was
for the Lee Tunnel in Cork. Presently, we have deformation surveys still in hand and although they are not a large part of our day to day work, they are an important facet
of surveying.