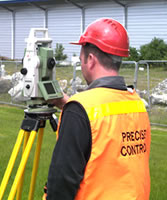 Precise Control were the first Land Surveying Company in Ireland to obtain ISO 9002 certification in 1990. This standard has been updated over the years and we are now certified to ISO 9001.

We operate to the highest quality standards to achieve the best results for our broad client base. We provide a specialized Land & Engineering surveying service to Architects, Engineers, Developers, Construction Firms, Corporate & Industrial companies, State Bodies and private individuals.
To ensure our high quality standards we operate with a built in system of checks from commencing fieldwork to the finished product. We operate closely with recognized professional bodies (IIS, NQA) and work on a program of continual investment in the latest state of the art equipment and technology.

Precise Control 's head office is located at Eastgate, Little Island, Co. Cork. Please contact us for a quote or to discuss any of your surveying needs or requirements.